I consider myself to be a feminist because I believe that women are equally important as men and share an equally vital role in society. Any person that recognizes the role of a woman to be important and can celebrate what being a woman is all about as well as identify with the struggles women go through sometimes in order to gain that equality is someone that can identify themselves as a feminist. Feminism is about embracing womanhood and being proud to be a woman. It's being able to have opportunities and make choices that will open doors and pave new roads for other females to do the same.
The stereotypes associated with feminist have it all wrong. All you have to do is Google "feminist" and images like these will pop up: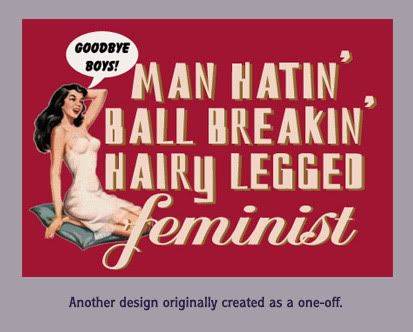 The fact that feminist are stereotyped to hate men and are automatically considered lesbians that they refuse to shave their legs and even refuse to have children is an unsettling reality that is important to correct in order to gain respect and acknowledgment in the very significant things feminists stand for. I am sure there are even women out there that would stereotype feminist this way. There are feminist voicing very substantial ideas and opinions that become devalued due to this very unrealistic stereotype.
So how can anyone expect people to listen to them if they are automatically dismissed as "man hatin', ball breakin', hairy legged feminist?"
This has got to change.